Drinking for a Cause
As Various New York City Restaurants and Watering Holes Have Shuttered, One Harlem LGBTQ Bar, Born at the Height of the Pandemic, is Fighting to Remain Open, Serving and Lifting Spirits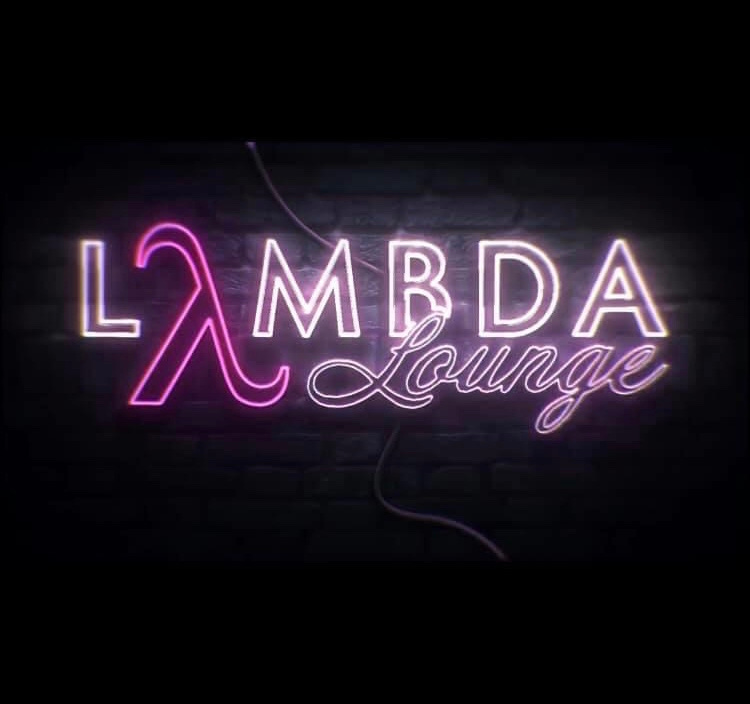 Lambda Lounge
There's a sight to behold at the corner of Harlem, New York's Adam Clayton Powell and 133rd Street. Not simply the interior space of the area's new LGBTQ bar but a great showing of support in the good old capacity of the human spirit. 
With New York City relaxing its guidelines to allow bars and restaurants to offer socially-distanced curbside dining and drinking, Lambda Lounge, the brainchild of married couple Charles Hughes and Richard Solomon, was busy one Sunday evening, offering small bites and specialty cocktails. Like other venues in New York City, they've had to create a space on the curb, arranged with their signature black high top tables and gold-framed chairs six feet apart.
At the time of my visit, there were several parties of a total 15 gay men mostly in their 20s and 30s, waiting for one of 12 outdoor tables one chill evening. Not one was available. This level of patronage in normal times would be enviable for any new business, but these are not normal times. Folks have been turning up in support, given the financial challenges being faced by its proprietors. More than a new bar, many see the place, only one of two Black-owned LGBTQ bars in the Harlem community, as a refuge and one worth saving.
Opened in the midst of the global pandemic, the lounge has a moody interior, with hardy and tasteful leather seating. With a capacity of 75, it has a 15-seater bar, backlit with red and blue lighting, and three VIP sections, each equipped with a television, a PlayStation and a call button to get on-demand service. Hughes and Solomon created a space they describe as "grown and sexy," because they saw a vacuum, "Within the urban community, said Hughes, "we saw that the majority of the places we are able to frequent are only on particular nights between particular hours. So, the Lambda Lounge is going to be open from Tuesdays to Sundays from 5pm - 4am so that our guests can frequent it at all times."
As well, they opened the bar as a venue to sell their own brand of vodka, Lambda Vodka, after four years of an inability to penetrate the liquor stores and LGBTQ bars and clubs in the city, "We thought why not open up our own location and sell our product to our guests. We kind of could kill two birds with one stone because we don't have a lot of urban LGBTQ+ locations in New York City."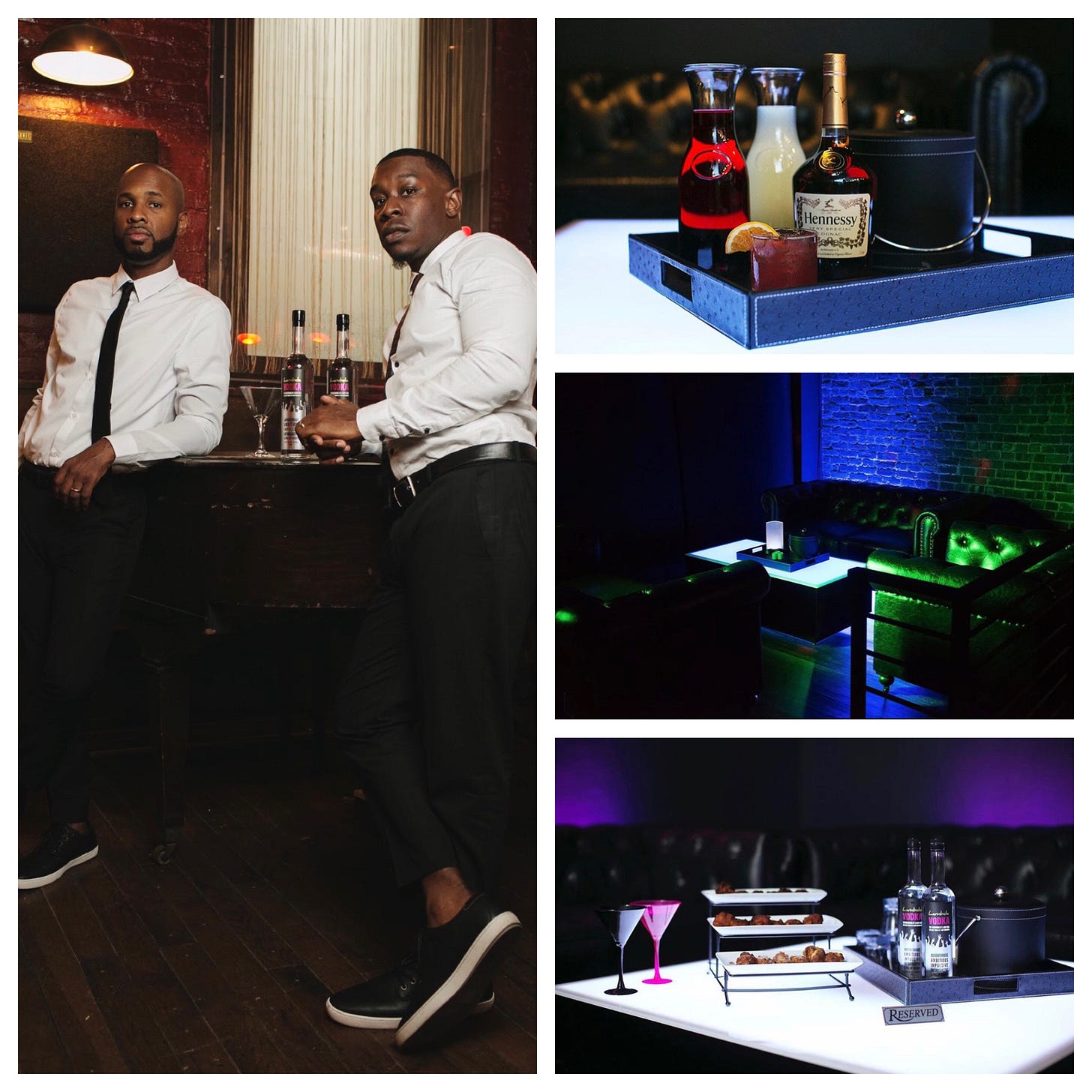 Lambda Lounge; owners Richard Solomon and Charles Hughes (L-R)
Yet, despite their good intentions, they could not have anticipated what would befall them, as New York City locked down due to the ongoing pandemic. "Our grand opening was supposed to be in April," said Hughes, "and of course the pandemic started to take effect in March. We were concerned about what was going to happen, because we put a reserve away for a certain amount of months."
Instead, they waited out until July when the city allowed for outside dining. They, like 70% of small businesses and other LGBTQ New York City bars were concerned about the prolonged closure. Even New York City's historic Stonewall Inn and the nearby Alibi Lounge were in threat. But unlike some other 16,000 bars and restaurants that were forced to permanently close across the U.S., Lambda Lounge had not yet made a name for itself or built a loyal clientele. 
"With Ricky and I, we can't continue to look at all the problems we're going to have. We have to try to be innovative and break down barriers. And I think Lambda Lounge is going to be one of those locations."
If the enormous threat of the pandemic weren't enough, they have since racked up over $10,000 in fines after three separate complaints were made about their patio setting—a move originally intended to provide a safer space for the vulnerable community they serve,"Being 100% LGBTQ," said Hughes, "we were kind of concerned if we were going to have any issues with some of our guests sitting on the curb. We have a back patio area that we were able to open and set our couches, which was very nice."
It seemed neighbors felt their set up, including a tent, presented a fire hazard because they were too close to the neighbors' windows. Notwithstanding, the concerns of Hughes and Solomon are particularly valid in that there has been precedent of prior hate crimes and threats in the community recently. Alexi Minko, owner of Alibi Lounge, the only other Black-owned LGBTQ bar nearby, was severely beaten by seven strangers in March and had to be hospitalized. Ahead of this year's Gay Pride in June, vandals twice set the same bar's Pride flag ablaze. Minko had to remove another flag in July after repeated incidents where firecrackers were intentionally set off in front of his establishment. As well, a burglar broke in and stole less than $400 from the cash register the same month. For this, Hughes and Solomon will rely on Richard, the burly bouncer they have hired, to protect them and their guests.
Despite the unfavorable welcome and potential threat, Hughes said, "Somebody has to take the first step. With Ricky and I, we can't continue to look at all the problems we're going to have. We have to try to be innovative and break down barriers. And I think Lambda Lounge is going to be one of those locations. As far as the buildings around us, a lot of the people are receptive to us being here. And the ones that aren't, we've got to give it some time. Rome wasn't built in a day."
Hughes' optimism, however, can only go so far in helping them with their more pressing woes. With six employees, utilities, and rent that amounts to 60% of their overhead costs, they have been squeezing as much as they can through their personal finances, since both still work full-time jobs for the same healthcare provider. They applied for the federal loans administered by the United States Small Business Administration (SBA) and received a relatively nominal economic injury disaster loan (EIDL), but got denied for an SBA loan and the paycheck protection program, since they were not already in operation to substantiate a claim. 
The opening of curbside service, while helping, is no magic bullet. "We're just trying to keep our heads above water, honestly," said Solomon. "The outdoor space has given us a little wiggle room, but it's not going to last for long. In situations like these you end up having to pass off a lot of the overhead that you normally would be able to satisfy if you were open. We skimp on bills, we skimp on rent. We have to maneuver and move things around in order to be able to take care of the people that matter most to us—our employees."
Fortunately for them, they have a landlord who has been co-operative in allowing them to operate without having yet paid rent, which is accruing. 
To help defray their costs, they have a GoFundMe to raise $120,000, which they determined would get them through next summer if there is no indoor service, especially as the winter months are fast approaching and because what they are doing curbside would not be enough. 
"We've been hearing [Mayor] de Blasio say for a little while now that restaurants are OK with this set up," said Solomon, "but that's completely not true. The amount of money you make in the front cannot satisfy your overhead for long periods of time. You're going from a space that has a revenue expecting 100 people on a daily basis to now 30. So in no way that would be a match to what you would expect pre-Covid. It's simply a bandaid. You can hang in there for a little bit, but eventually you're going to go out of business."
Shateke Bennett, 30, who lives in Brooklyn and made the long trek to Harlem, is willing to give them a chance, "I think Lambda Lounge is great even in the wake of the current state of New York. The service is amazing and the aesthetic appeal of the lounge is a major plus. I have gone twice, once in the back patio and recently for the curbside dining. Being able to have somewhere to go that caters to all types of people as well as people who look like me is amazing. I will continue to be a patron."
A sentiment echoed by Christopher Clarke, 23, who went to the grand opening in July, "I think the lounge has a lot of potential. They have nice amenities; I like the lighting and the chair set up. It has more space than other gay bars in the area."
Gregory Taylor, 35, who lives in the area and has been there three times already explains why it's more than approving but perhaps necessary, "We need to do our best to support them so that we have places to go. It is important for the community to have spaces like this in these times because people need to have an opportunity to feel welcome and at home somewhere." 
A bar manager at a Jersey City-based LGBTQ lounge himself, Taylor knows their struggle first hand, "I have been managing bars, nightclubs, and restaurants for about 15 years. Professionally, it was a huge dent in my life as the venue I am currently working at is fairly new (under two years). We were just settling into a groove. Covid-19 hit and threw everything off for us."
If the outpouring of support persists, maybe Hughes and Solomon will have a fighting chance in saving a lounge whose name (Lambda) is historically associated with the Gay Liberation Movement and whose magenta insignia (the 11th letter of the Greek alphabet) was declared the international symbol for gay and lesbian rights. Clearly, patrons see that the spirits served at the bar are liberating theirs. "It's not something that's just important for me to succeed," said Solomon. "We created this space for people within the LGBTQ community that don't have a safe space for them to commune and be themselves. So, it's important for me but I find it to be more important for those individuals."
Written and edited by Wesley Wade, Freshfruit CEO and Freshfruit contributor. Follow Wesley @twodoubleyoos (Facebook, Instagram, and Twitter),
Follow Freshfruit @freshfruitinc (Facebook and Instagram), @freshfruit_inc (Twitter)